With so many electric options, stuffed animals and complex battery-operated toys on the market, it can seem somewhat simplistic to invest in a well-made, wooden pull along toy. However, such toys have stood the test of time. You might have seen grainy, black and white photos of Grandma with a wooden dog with a piece of string attached, trailing faithfully behind her. Or Great-Grandpa with the timeless classic wooden train with wheels that turn as he took tentative steps. Well, such toys are still very much in vogue for eco and educationally minded parents, who want the very best for their baby, toddler or pre-schooler.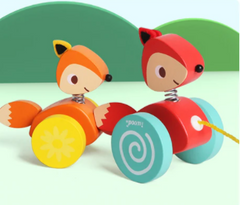 Simply, and beautifully made from well-crafted wood, pull along toys are a great first choice for babies from the age of 12 months' onwards. Such toys accompany children as they transition from crawling, to standing, cruising, toddling and eventually walking with confidence. A pull along toy can be a fun companion supporting them through this journey.
Pull along toys are a mobile science lesson for hungry young minds. Even young babies can pick the toy up and move its wheels. These may seem like simple basic moves to adults, but for a child, these are all important ways of learning about the laws of physics and the way in which objects operate. Crawling infants can push and pull the toy, learning something about cause an effect. This lesson really comes to life as toddlers begin to stand and take their first steps. Pull along toys can encourage children to take these steps and to keep walking. They can now take their favourite pull along toy on a walk, a journey of discovery and adventure! Young children often chatter away to their pull along "pet", which naturally promotes language skills and development, as well as creativity. They learn about balance and about motion, all the time whilst delighting in the experience of enjoying pulling the toy along with them. They can take the toy with them as they move across rooms, across spaces, which is a powerful support to developing minds. And, like so many wooden toy options, the simplicity allows the child to really hone and develop the important skills of dexterity, hand-eye coordination and manipulation.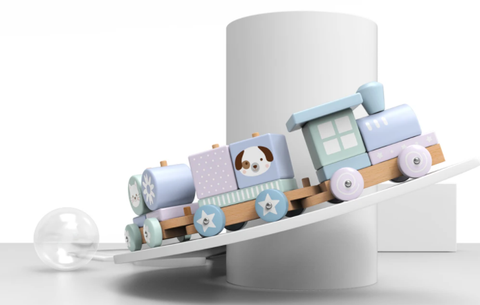 Pull along toys are also a great choice for children's psychological development. They endanger a sense of confidence and autonomy in children, as they experience the wasy in which they can interact with the world. They realise that they can push, and pull. They can make stuff happen! This is essential for nurturing a developing sense of self and self-esteem. The work of Donald Winnicott, British paediatrician and child psychoanalyst, is also really helpful in understanding why pull along toys are a great choice for young children. He pointed out the importance of children having attachment objects: toys or items that they could take from space to space with them to offer a sense of security and containment. For many children, a pull along toy can provide this constancy.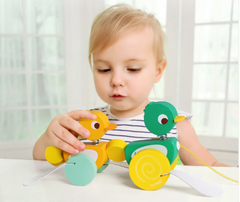 ​Some pull along toys are animal shaped. There are vehicle based options, such as trains or lorries. Some come in muted, classic, plain colours, such as this pull along fox . Other as brightly coloured, stimulating children's visual senses. Some, such as this lovely fox example, offer the addition of increased movement through wobbly options! With any toy, it's important to think of safety. Pull along toys, made from wood, are produced using nontoxic natural materials and should offer carefully polished and smooth surfaces for safety, finished to the highest standards. Wooden pull along toys are also an eco-friendly, green option.
So, for learning opportunities that also offer the entertainment challenge that we want for our babies, toddlers and children, pull along toys are a great choice. Whether its pull along giraffe, train or even ducks, consider how a pull along toy could help your child get along in life!