Push and pull wooden toys help children develop essential skills as they grow. Between the ages of five to twelve months, there's a lot of development going on. To name a few, babies are building essential skills like motor skills, hearing skills and hand-eye coordination. Many of these skills can be enhanced through fun and simple playtime – as simple as a wooden push and pull toy wooden toys for 1-year-old.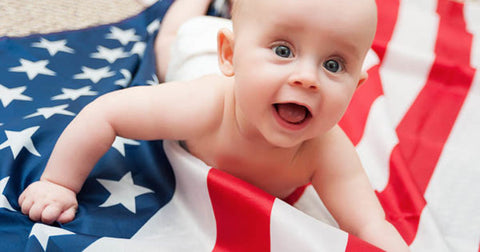 Whilst the developmental aspects of wooden educational toys are important, the real joy for parents comes through watching child play and their learning through imitation. The wooden toy connects generations in a way that plastic toys can't. Grandma and Grandpa will be keen to share in their fun activities, as they wistfully recall their own childhood memories, playing with sturdy fun wooden toys. Wooden toys for the grandparents' era would be equally as popular as our classic eco-friendly wooden range of toys that we offer today. In fact, wooden toys are so durable and special; you might even have some hand-me-downs! 
The simplistic nature of the wooden toys is not to be under-valued – it's fascinating how much children learn through simple movements.
Pushing and Pulling: Five to Twelve Months Old
If your little one is reaching five to eight months old it's likely their awareness of colour is creeping in - the vibrant colours of a traditional wooden toy like the brightly coloured giraffe will be sure to attract your little ones attention. The visual and cognitive stimulation provided by wooden toys will be sure to make play more fun and memorable than a monochrome toy. To involve other family members in the play, try encouraging a growing baby to focus on different colours. This activity will build their eye muscles whilst enjoying pleasurable, fun playtime.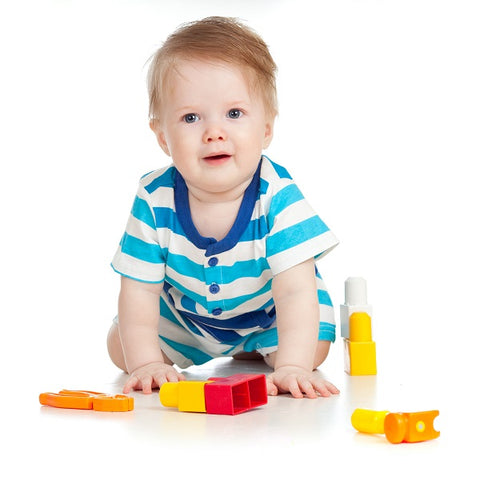 At eight months, your baby is likely becoming more inquisitive, beginning to crawl and reaching out to grab different toys, which is why the push and pull toy can be such a satisfying toy.
In one gentle pull, baby can bring the pull-along ducks, or a three-section pull train right into their grasp. The movement will encourage the baby to move too. This inspiration to move that comes from the pull-along toys makes it a fantastic investment into any toy box, as it will support your child's developmental needs as they master the skill of crawling, then walking too.
In addition to all of this, your baby will also be learning cognitive development skills such as listening and thinking through hand/eye coordination whilst pushing or pulling the toy. Hearing is developed by recognising the sounds of the wheels on different surfaces. The stimulation of the sound will encourage children to look toward the sound, strengthening their neck muscles. They will soon come to recognise traction and balance, preparing them for later when they can move onto a push and pull trolley which will give them confidence whilst learning to walk.
 Pushing and Pulling: Twelve to Eighteen Months Old 
At twelve months to eighteen months, your toddler will be improved on listening and colour cognition along with logical thinking and patience, which will be developing along with dexterity, problem-solving and manoeuvring ability.
A pull along toy can be a fun way to encourage balance, strength, and coordination.  Our pull-along ducks are ideal at this stage due to the fun wheels which have a soft material attached to them, making for an exciting action when being pushed or pulled. Encouraging your toddler to look behind them to see the motion helps them to build and strengthen different muscles: hand muscles to grasp the string, arm muscles to pull it, and legs and torso to balance.
The eyes need to work in conjunction with the rest of the body, providing that beneficial combination of cognitive and motor skills.
Pull toys can be an early way to boost a toddler's confidence and their understanding of what they can control. Pulling a rolling object on a string shows them that they are the one deciding where the toy is going.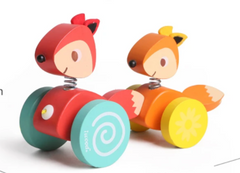 Pull-along toys come in different shapes and sizes, meaning there's something to attract everyone. For the animal lover, the beautiful iWood Pull-Along fox  makes an ideal fun push and pull toy. It will stimulate their creativity, imagination and fine motor skills such as strength, balance and coordination - boosting their confidence and everyday cognitive skills.
Our beautiful wooden toys are strong and carefully polished resulting in smooth surfaces which are finished to the highest standards required for your peace of mind; they have also been painted with a high quality non-toxic environmentally friendly water paint resulting in a bright, colourful surface to attract your baby's attention. Like all good traditional wooden toys, our toys will minimise the impact on the environment and you'll be passing them down for years to come – sparking joy in your child's siblings – or with such a durable toy – your children's children.